extra information
1:
Event permit process & getting permission
You can now apply online for your event permits.
Apply for an event permit
, online via the Auckland Council Website.
If you are planning an event on a council owned park, beach, square or road, you may require an event permit. Please see the Auckland Council website to check if you need an event permit.
The following steps are required to receive an event permit.
Step 1
Apply for your event permit online via the Auckland Council website. Once application is submitted:
Auckland Council will assign an event facilitator to assist you with your application.
Your facilitator will advise you on venue, date availability, fees and any further licenses you may require.
Auckland Council will make a tentative booking.
Note
Auckland Council require a minimum of six weeks to process low impact events, and three to six months for higher impact events, including those with traffic management.
Step 2
Once your event facilitator has reviewed your permit application they may ask you for additional documents to support your application, such as:
Event Site Map
Health & Safety Plan
Waste Management Plan
Traffic Management Plan
Public Liability Insurance
Alcohol license
Amusement device licenses
Temporary building consent.
Step 3
Upon receipt of all documentation, your facilitator will seek approval from relevant parties.
Note
Depending on the scale of your event, you may need to attend a planning meeting with relevant stakeholders to discuss your event and address any areas of concern.
Step 4
If all relevant parties approve your event, Auckland Council will set relevant conditions and permit your event. If your event is NOT approved, Auckland Council will contact you. Should this transpire, you will receive a written explanation of the reasons your application was declined.
Step 5
After the event, your facilitator will make contact to discuss your event and arrange a debrief meeting, if required.
Feel free to contact the Event Facilitation team at events@aucklandcouncil.govt.nz for any initial event enquires or questions about the event permit process.
2:
Stallholder / vendor agreements & information
It is important to articulate your event's Zero Waste policy to vendors and suppliers as early as possible. Because most event waste will be brought on site by vendors and suppliers, their participation is critical.If you are determined to be Zero Waste, make stallholder sign-up conditional to Zero Waste compliance. Commercial opportunities will incentivise compliance.If you are not in the position to offer commercial incentives, you may find stallholders have concerns about branding, cost, and performance if using recyclable or compostable alternatives. These concerns will need to be addressed, and decisions made about what concessions, if any, will be allowed. Provide vendors with an information sheet that sets out the events requirements in terms of packaging and waste management practices:
Your cooperation in supporting Auckland Council's waste minimization and recycling efforts, is appreciated.
Vendor Information Sheet
Please consider the following when planning your event:
Recycling facilities will be provided in back of house areas for the following materials:
Cardboard (please flatten boxes)
Plastic film
Plastic, tin, glass and aluminium containers
Food waste
Recycling facilities for members of the public will also be provided. There will be two waste streams collected – one for recycling and one for compostables. In terms of goods sold/distributed, please only use items and packaging that can be deposited into the following streams:
Recyclables:
Plastic 1&2 drink containers and milk bottles
Aluminium cans
Plastic 6 cups
Glass bottles
Tins
Programmes/Posters/Newspapers/Magazines/Cardboard
Compostable:
Food waste
Betal Nut, Potato plates, corn starch and wood cutlery
Napkins and paper towels
Suppliers and vendors play an important role in helping create a zero waste event.
Please DO NOT use the following:
Non-recyclable plastic or paper plates
Plastic bags
Plastic plates, cups and cutlery
Polystyrene and wax paper cups
Chip bags and other non recyclable plastic film
Download The Vendor Information sheet here
3:
How to staff the stations
Staffing bin stations makes a big difference. Bin monitors help answer patron questions and guide proper waste distribution. Here are some useful tips to assist you;Sourcing staff & volunteers Make sure you have enough people. To bring down the cost associated with staffing your bin stations, recruit volunteers. Plan recruitment in advance and train them to ensure efficiency.Whoever you approach, you will need to communicate the following:
Why they should support your event.
What they will receive (e.g. training, food and drink, free T-shirts/caps etc.).
How many people you require.
When you need them, for how long, and what their duties will be.
Requirements such as age, ability, good communication skills etc.
Sources you can try when recruiting volunteers:
Community groups and schools
Neighbourhood groups
Scouts
Sports clubs
Lions/rotary etc
Churches/temples
Cultural groups
Marae
Students at university or school
Parents of children in early childhood education such as kindergartens or playcentres
Political groups e.g. local Green Party Branch
Environmental organisations such as conservation groups, Transition Town groups etc.
These groups are not always well resourced themselves. Accordingly, a good approach is to make an offering such as a donation, in exchange for volunteers.
We have a shortlist of groups who are interested in this kind of fundraising. Please email wastewise@aucklandcouncil.govt.nz for more information.
Businesses and volunteering organisations
Consider local businesses with a logical connection to your event type. This will add value to any event publicity offers you may have.
The general public
Use social media to drive awareness of your staff requirements.
Staff can be easier to manage if they all come from the same business or community group.
On sign-up, engage staff to fill out a form asking about availability and contact details, which contains a request to commit to event attendance.
Send text or e-mail reminders, or if you have the time, phone beforehand to confirm.
Rewarding staff
If approaching groups to recruit staff, incentivise participation. For example:
Businesses may be interested in branding and sponsorship opportunities.
Whereas, community organisations, may require different incentives such as:
Donation to the organisation
Free tickets
Provision of stall space (where they could run their own brand related activities, such as fundraising)
Publicity may appeal to an organisation seeking to increase their membership
Sponsorship/branding opportunities could include:
Supplying branded t-shirts, caps, vests, aprons etc to staff
Mention in event announcements
Mention in event advertising and social media
Brand signage
Provision of stall space
Provision or funding of corporate hospitality – free entry, meals, drinks etc for key staff
Finding the right people
The right bin monitor profile is someone cheerful, friendly, and enthusiastic. It is not essential for them to have knowledge about zero waste or events. This can be part of their training. Beyond these skills, consider the environment they are going to work in and who would be most suitable. For example, an event where alcohol is served is not an appropriate place for a young volunteer. Similarly, an event that requires heavy lifting would not suit very young or very old people.
Do you require staff volunteers to help sort waste? Some people may be happy to talk to the public, but not handle the waste itself.
Training staff
Training staff is recommended for them to understand their role. Here are some points to consider:
Use a designated staff coordinator, at all times.
Host a team-building experience prior to your event. Present information about why their contribution is important.
Identify experienced Zero Waste Event staff and place them with inexperienced staff.
Provide a clear code of conduct e.g. smoking, drinking, using phones, listening to music, swearing loudly is prohibited etc.
Ensure they have everything required. You may wish to supply waste grabbers, T-shirts, hats and/or high-vis vests to help attendees identify official staff.
Establish a staff base at the event with a gazebo or tent if the event is outdoors. This can be your location for training, briefings, gear returns, shift changes, first aid, and refreshments.
Ensure staff have the information they require to do their job:
Brief them about what they need to do, and why.
Prepare an outline of your event waste management plan, which includes staff roles and responsibilities.
Demonstrate waste-to-bin distribution with sample products and packaging.
Facilitate a hands-on session where staff distribute different waste types in the right bins.
If public interaction is required, hold a role play session to provide an experience of engagement.
Encourage questions and ideas to help streamline your event.
Coach staff in good customer service. Provide a helpful attendee engagement script or opening lines. If you require them to provide general information about the event, ensure they are aware of toilet and water supply locations.
Teach staff to empty bins once they are full, how to put in a new liner and where to store materials.
Inform staff where extra supplies can be found e.g. bins, liners and tape.
Looking after staff
It is important to look after your staff well and preferably create returning staff. Should they return the following year, their experience will help create an efficient event.
Coach staff in handling negative public behaviour. Ensure they feel confident to walk away from any conversation or situation that may feel unsafe.
While you may not remunerate your staff at normal rates, you are responsible for them as an employer.
Staff require hats, water and sunscreen if it is hot. Covered shoes are recommended. If health and safety equipment is required e.g. gloves, make sure they have it.
Keep shifts to a reasonable length and ensure you inform staff of the number and duration of shifts. Flexibility may be required regarding timing and duration of shifts.
Ensure the provision of toilet and refreshment breaks during shifts over 2 hours. If your event spans several days and you are remunerating staff with tickets, provide longer breaks such as an entire morning, afternoon, or evening.
At the completion of their shift, show gratitude and if possible give a small gift such as a meal, drink voucher or chocolate bar.
Post event, contact staff and share data pertaining to their collective Zero Waste efforts, highlighting how they helped achieve results.
Be aware of personal safety, especially for events that extend into the evening. Ensure staff feel comfortable moving around the site, or have them stick together in pairs. This is especially important at events where alcohol is consumed.
During your event, unexpected waste types may have to be managed. It is therefore important to implement an unexpected waste management system;
Ensure a supervisor checks bin stations to monitor waste-issue management.
Have a quick debrief at the end of each staff members shift and enquire how they handled unexpected waste. Where appropriate pass this information onto other staff.
4:
Waste & Recycling Services
The following is a partial list of 'Collection Service' businesses in Auckland. In providing this list Auckland Council does not endorse or guarantee the operators named. For more information on alternative waste and recycling collection operators, consult the Yellow Pages, or The Recycling Directory.
Waste, Recycling & Food Waste Collectors
Clean Event Ltd
9B Spring Street, Onehunga, Auckland
George Seton – 021 738 664
george@cleanevent.co.nz
www.facebook.com/cleaneventnz
(Offers a 'Zero Waste Event' service – wheelie bin hire, waste collections, litter clean up. Collection of three streams – compostable, co-mingled recycling and waste. Trained waste station educators available on request.)
Closed Loop
gschicker@closedloop.co.nz
www.closedloop.co.nz
(On-site waste management and collection, sustainability advice, and cleaning at large events.)
EnviroWaste Services Ltd
345 Neilson St, Onehunga, Auckland
0800 240 120
auckland@envirowaste.co.nz
www.envirowaste.co.nz/
(Waste, recycling and food waste collection)
Green Gorilla
1 Victoria Street
PO Box 13-827, Onehunga
09 636 2244
http://www.greengorilla.co.nz/
(Waste, recycling, and food waste collection)
Rubbish Direct
0800 36 77 35
 info@rubbishdirect.co.nz
 www.rubbishdirect.co.nz
(Waste, recycling, and food waste collection)
Waste Management
86 Lunn Ave, Panmure, Auckland
09 527 1300
www.wastemanagement.co.nz
(Waste, recycling and food waste collection – Fruit and vegetable peels, tea bags, coffee grinds, and leftovers only)
Waste Scape (NZ) Ltd
4131 Great North Road, Kelston, Auckland
Nipa Valentine – 027 502 7624
nipa@wastescape.co.nz
facebook.com/wastescapenz
(Waste, recycling and food waste collection)
Pink Bin Company Limited
27 Grayson Avenue, Papatoetoe
09 250 1058
amy@pinkbins.co.nz
www.pinkbins.co.nz
(Waste, recycling and food waste collection)
Waste and Recycling Collectors
JJ Richards
09 2626 500
P.O. Box 76 – 647, Manukau City 2241
www.jjrichards.co.nz/
(Waste and recycling collection)
When using compostable food and beverage packaging, ensure all material goes through the appropriate composting process. If it doesn't, it will be sent to landfill. Compostable material in landfills is particularly bad for the environment. Next, ensure you are using the right types of products. Here are some simple rules:
Items made from natural materials such as wood and unbleached paper are okay to compost
If items are made from plastic, such as cutlery, or have a plastic lining, such as coffee cups, ensure you use 'compostable' products certified to a European Union or Australian standard.
Steer clear of any products not certified to these standards.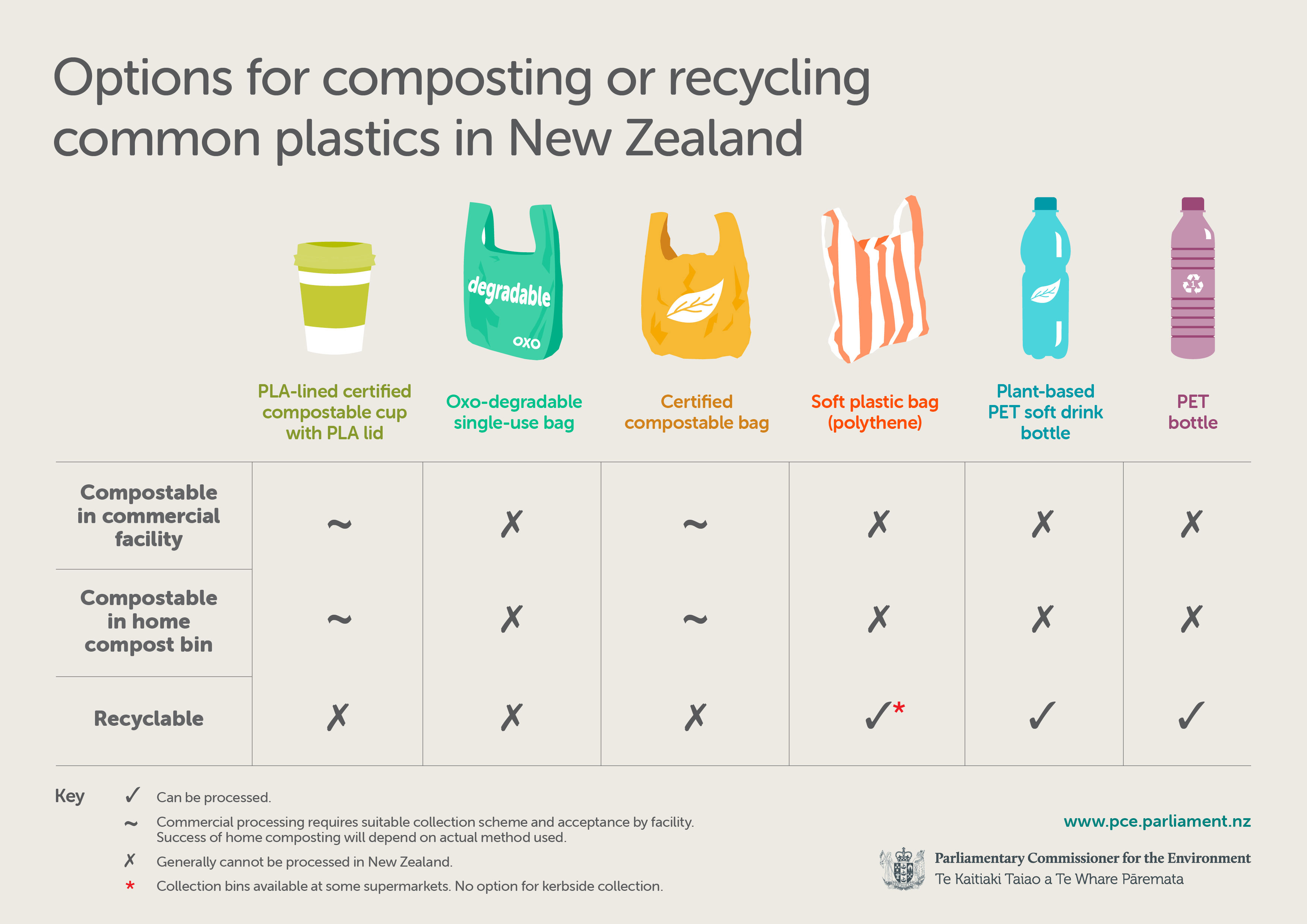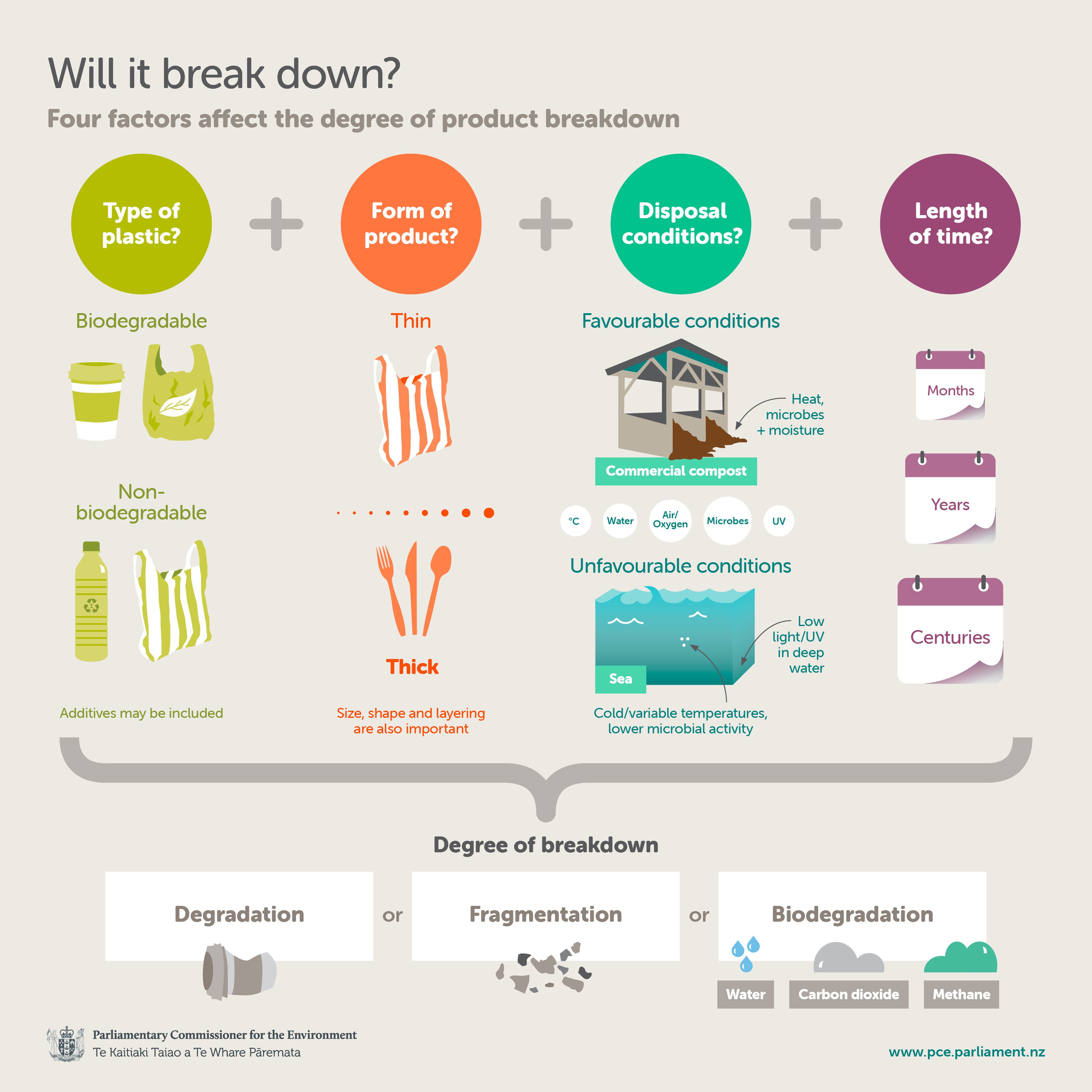 IMPORTANT: Sending incorrect products to the composting facility will contaminate their end product. If a truckload has too much non–compostable material it could result in:
The truckload being directed to landfill
The event receiving a fine from the service provider
A load to landfill fee.
The list below provides examples of compostable products. Such products do not always cost more. You can also save money by using less or simpler packaging such as paper napkins, or bags instead of boxes. The range of available products is growing and changing frequently. See suppliers for a recently updated list.
Wooden Cutlery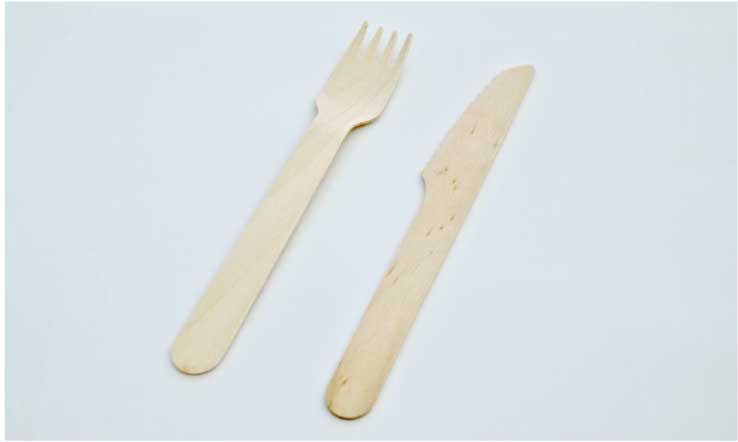 Wooden or bamboo knives, forks, spoons, and chopsticks.
Pine cutlery is the easiest cutlery product to break down at a very competitive price. These products can be disposed of in any composting environment, including home composting.
Compostable Plastic Cutlery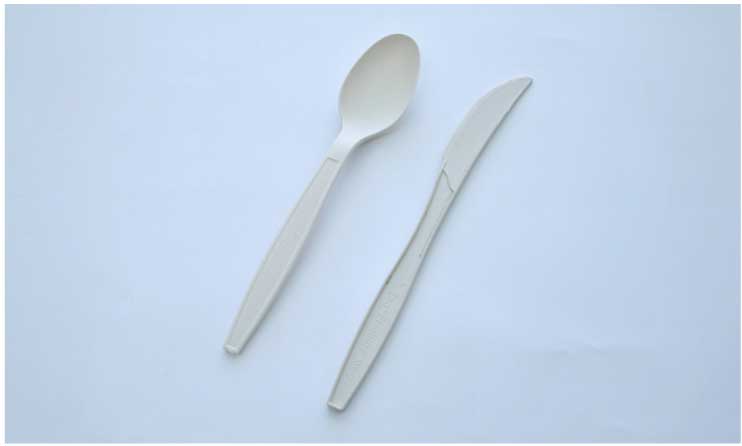 Compostable knives, forks, and spoons.
Made from plant based polylactic acid (PLA). Usable for hot and cold foods. Designed to break down in commercial composting processes.
Lined Plastic Cups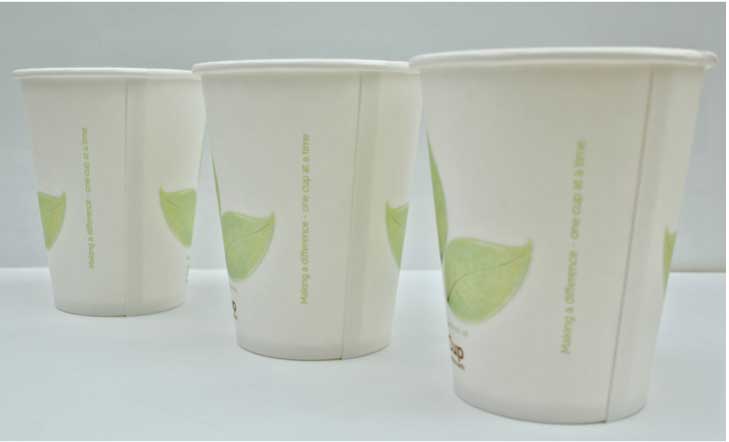 Compostable cups – single or double wall.
Ranges from 4oz (perfect for tastings) to 20oz/600ml (replacing milkshake cups).
These cups have a similar look and performance to regular paper cups but are equipped with thin plant based plastic (PLA) lining instead of regular plastic lining. They break down readily in all commercial composting environments but are not designed for home composting or worm farms.
Clear Plastic Cups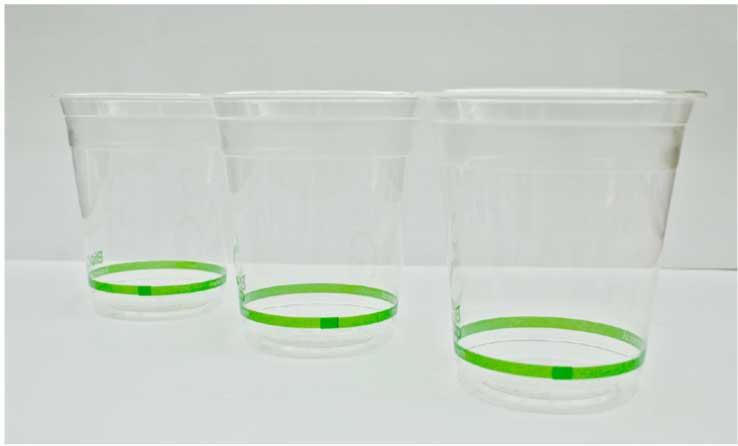 Clear plastic cups and lids for cold drinks. Available in a range of sizes.
Made from PLA bio plastic, they look and perform similarly to PET (number 1) plastic. They are compostable in commercial composting processes.
Moulded Paper Cups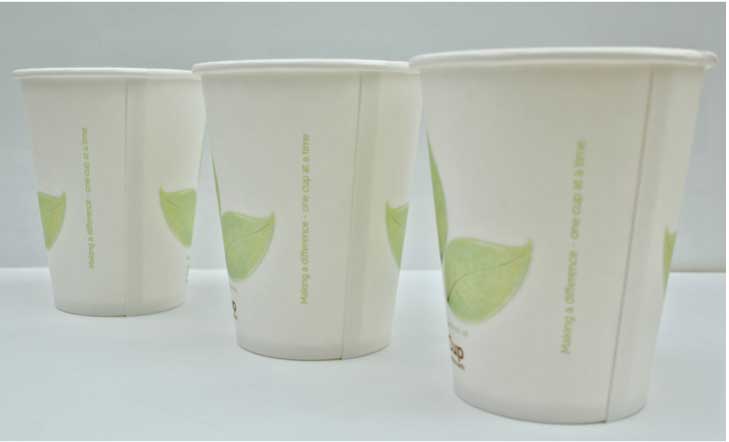 Pulp based hot or cold cups available in a range of sizes.
Ideally made from recycled paper and non-bleached or dyed. Fully compostable in any environment including home composting and worm farms. Widely available from most packaging suppliers.
Cup Holders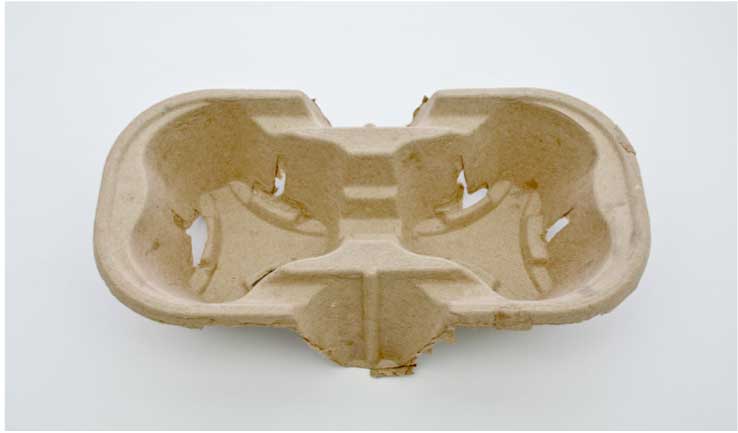 Made from a recycled pulp.
Ideally made from recycled paper and non-bleached or dyed. Fully compostable in any environment including home composting and worm farms. Widely available from most packaging suppliers.
Drinking Straws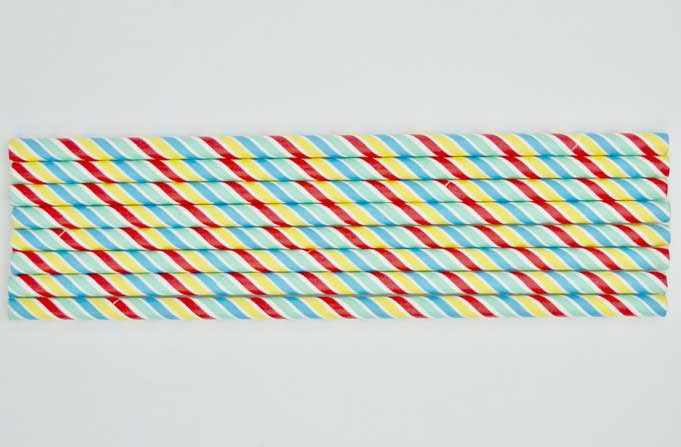 Paper drinking straws.
Paper straws are made from food grade recycled paper and can be found at most packaging retailers. They are suitable for processing through all composting environments such as home composting and worm farming as they use soy based inks and are 100% recycled paper. They are suitable as a straw for a thin drink (not smoothie/thickshake), holding their shape well.
Napkin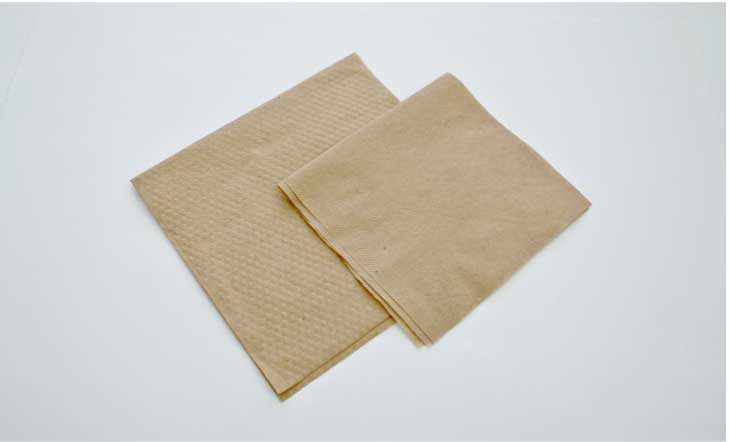 Recycled paper napkins, natural coloured.
These kraft coloured paper napkins are made from recycled paper. Food grade and free of toxic dyes, they are preferred for composting over coloured napkins. Natural/kraft coloured napkins are widely available at packaging retailers and wholesalers. They are extremely cost effective.
Clamshells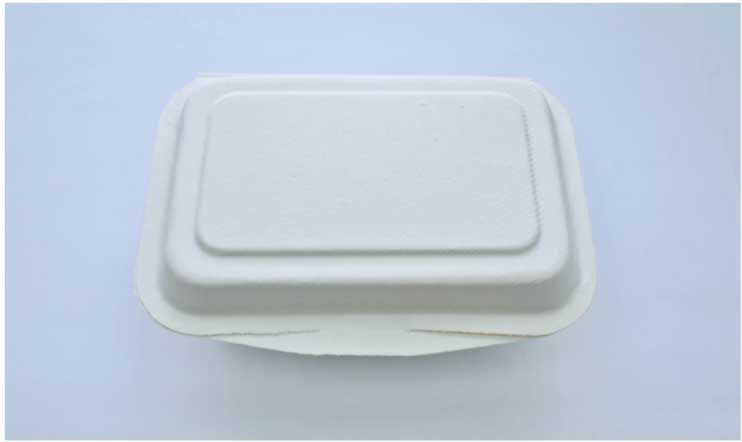 Range of compostable pressed fibre clamshells are available.
Made from sugarcane, wheat straw or paper pulp. Unlined and compostable in commercial processes.
Pine Boats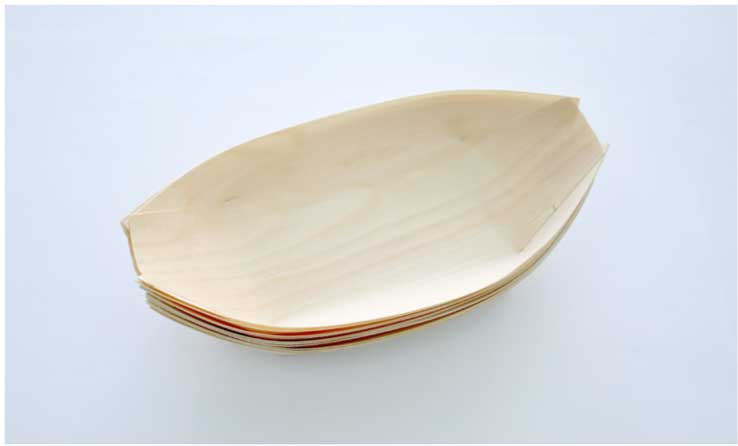 Pine servery comes in a range of shapes and sizes such as cones, boats, trays and platters.
Pine servery is a great way of presenting tapas style or finger food. It also comes in a flat tray. fibres are easy to break down in all commercial composting facilities, home composting and worm farming.
Bowls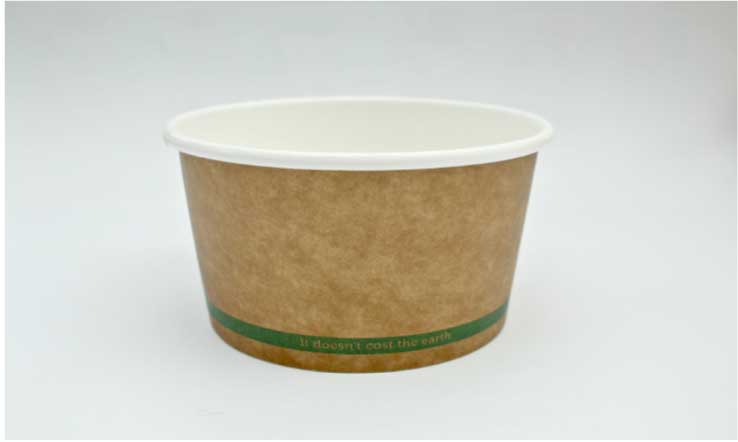 Single wall PLA hot or cold bowls for deli goods/ icecream etc. (preferred without lids).
Similar to the Hot/cold cups above with a PLA lining. This can readily break down in commercial composting facilities but is not suitable for a home composting unit or worm farm.
Potatopak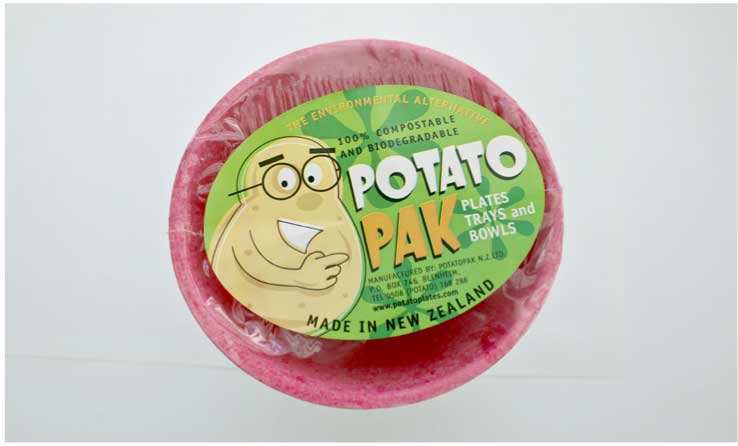 Range of plates, bowls, and trays.
Potatopak products are made of waste starch from the french-fry manufacturing industry, and are 100% biodegradable. Potatopak products are suitable for all fast-food applications (with the exception of boiling water and bloodmeat products). They break down quickly and are edible.
Paper Bags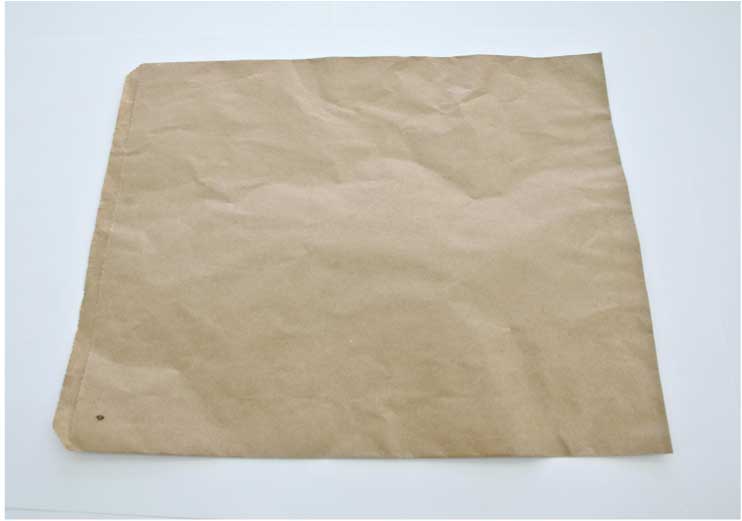 Kraft paper bags. Flat (e.g for jerky or similar) or with handle
Bags are ideally made from recycled paper and non-bleached or dyed. They are a cost effective alternative to carry-bags, which are fully compostable in any environment, including home composting and worm farms. Widely available from most packaging suppliers in the flat version and the carry bag version. Vendors can use water based ink stamps to brand bags.
6:
Compostable packaging suppliers
The following is a partial list of compostable packaging suppliers in Auckland. In providing this list, Auckland Council does not endorse or guarantee the suppliers named. This is a list of companies that supply certified compostable packaging, you will need to ensure you are purchasing certified compostable products as some of these companies also supply other types of packaging
Attwoods
Freephone: 0800 PACK IT (0800 722 548)
Free fax: 0800 377 758
www.attwoods.co.nz
(paper bags)
Ayrpak
Freephone: 0800 465 666
Email: info@ayrpak.co.nz
www.ayrpak.co.nz/
(Compostable plates, bowls, paper bags, cups, cardboard clamshells, recycled cardboard shelving)
BCS Foodpak Ltd
Showroom: Unit C, 57
McLaughlins Road, Manukau
Phone: 09 277 0104
Fax: 03 277 0115
email: info@bcsfoodpak.co.nz
website: www.bcsfoodpak.co.nz
(Wooden cutlery, cones, cups and plates)
BioPak
Free phone: 0800246725
email:info@biopak.co.nz
www.biopak.co.nz
Online Store: www.biopakshopnz.com
(Comprehensive range of compostable packaging including Bags, Cutlery, Containers, Napkins, Plates, and Bowls)
Futurity
Phone: 021 833 815
Email: Sales@futuritygroup.co.nz
www.futuritymanufacturing.com
(Compostable and customisable water bottles. Plant-based, customisable and reusable cups. Compostable and reusable cutlery)
One Stop Pak ™ 
Head Office
17A Weka Street, Otahuhu, Auckland
Phone: 09 276 8666
Stores in Albany, Avondale, Manurewa, Otahuhu, and Papakura
email: office@onestoppak.co.nz
www.onestoppak.co.nz
(Comprehensive range of food packaging products, including containers, bowls, tableware, clamshell boxes, cutlery, napkins, Kraft trays, boxes and bowls, sauce containers, cups and straws)
Closed Loop
email:
gschicker@closedloop.co.nz
www.closedloop.co.nz
(Suppliers of plastic free cutlery and cups, and KRAFT snack range packaging for food on the go) 
Ecoware
Tel: 0800 GO 4 ECO
email: hello@ecoware.co.nz
website:www.ecoware.co.nz
(Compostable cups, cutlery, clamshells, plates, bowls, napkins, lids, food boxes)
Eden Enterprises
116 Cook Street
New Plymouth 4310
Tel (06) 751 3229
www.edengreennz.com
(Corn starch products, plates, cups, bowls, straws, bags, etc. Products range & prices available online.)
Epicure Trading Limited
Pauline Moore
Tel 09 377 8925
Fax 09 415 6727
www.epicuretrading.co.nz
(Range of Compostable packaging)
Friendlypak
Box 83 132, Edmonton, Auckland
Tel 09 834 5340
Fax 09 834 5341
Mob: 027 410 4344
Kevin@friendlypak.co.nz
www.friendlypak.co.nz
(Compostable cornstarch bags, potatopak plates, bowls etc, PLA lined paper cups)
Huhtamaki
Cathy Lundie
Mob: 021 755 890
www2.huhtamaki.com
(Compostable cups, plates, cutlery and burger box)

Innocent Packaging
Tel 09 523 3870
info@innocentpackaging.co.nz
www.innocentpackaging.co.nz
(Compostable cups, cutlery, clamshells, plates, soup bowls, noodle boxes, napkins, lids, straws)
Potatopak NZ Ltd
P O Box 746
Blenheim 7240
Tel (03) 572 8977
www.potatopak.com
(100% Compostable potato starch products, plates, bowls, punnets, trays, cutlery etc. Products range & prices available online.)
Nisbets
Tel (0800) 222 700
Email: sales@nisbets.co.nz
www.nisbets.co.nz
(Fiesta Green range only. Includes:  cutlery, paper straws, takeaway coffee cups, containers and plates.)
NZ Safety Blackwoods (previously Packaging House)
91 Kerrs Road
Wiri, Auckland
Tel 263 1150
Fax 263 1151
PackagingandHygiene@nzsafetyblackwoods.co.nz
(Full range of compostable, bio-based and paper-based food packaging options including bags, liners, containers, boxes, cups and cutlery)
One Stop Pak
Head Office, 17A Weka Street
Otahuhu, Auckland
Tel: (09) 276 8666
Stores in Albany, Avondale, Manurewa, Otahuhu and Papakuraemail: office@onestoppak.co.nz
(Full range of compostable food packaging products, including containers, bowls, tableware, clamshell boxes, cutlery, napkins, Kraft trays, boxes and bowls, sauce containers, cups and straws)
Would you like to be added to this list? – If so please contact wastewise@aucklandcouncil.govt.nz with your details.
We would like to collate a list of community groups offering rentals of reusable crockery, cutlery, etc, for events. If you would like to be added to this list, please email sarah@ecomatters.org.nz with your details including name of organisation, contact details, website and social media presence, and what you supply.
EcoMatters
For a donation of $100 you can borrow bins and stands, as well as crockery, cutlery, wash tubs, brushes, aprons and tea towels.
All the information and form can be found here.

Talking Rubbish (ME Family Services)
Tel 0221028195
Email: justine@mefsc.org.nz
www.mefsc.org.nz
Talking Rubbish has a free kit for loan, which includes 50 cups, plates, bowls, glasses, cutlery, and everything you need to set up a washing station.
In providing this list, Auckland Council does not endorse or guarantee the suppliers named. 
COVID-19 and your event
Restrictions may apply to the size and type of event you can hold, depending on what alert level we are operating in, in response to COVID-19.
Find more information here:
Under the new Health and Safety at Work Act (2015), Principals (event organisers) are required to implement zero waste systems that comply with health and safety standards and practices. Key risks for staff / volunteers and the public when managing waste include:
Exposure to hazardous chemicals or biological agents
Accidents relating to the manual lifting of bins and bags
Cuts or abrasions from broken glass and other sharp objects
Slips, trips and falls
Incidents relating to heavy machinery e.g. being hit during when a truck is picking up or moving bins)
9:
New Zealand recycling symbols
Download PDFs of The New Zealand recycling symbols here:
Construction
Ewaste & Appliances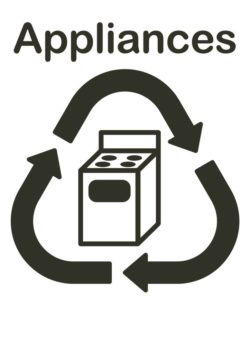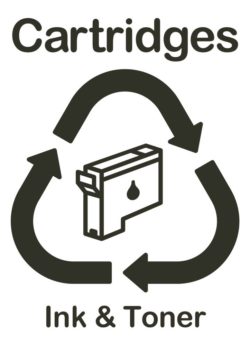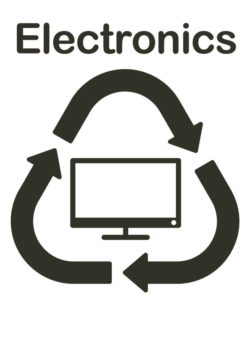 Glass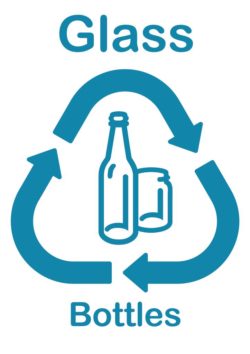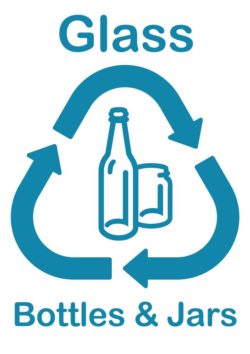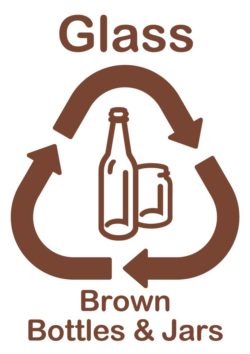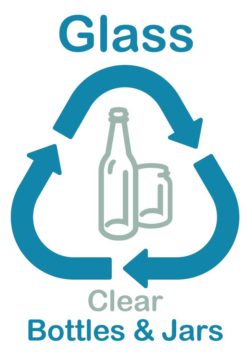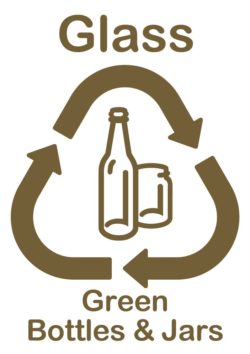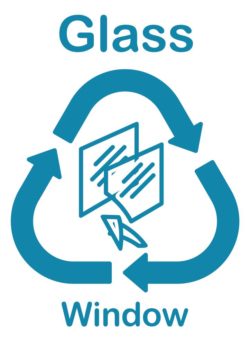 Hazardous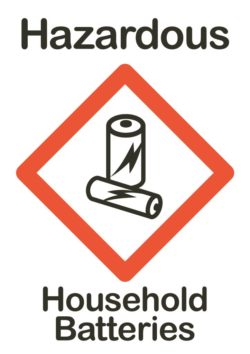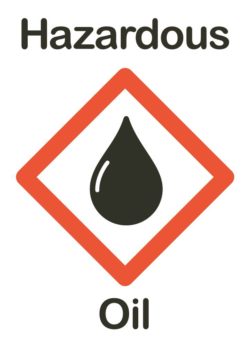 Metal & Tyres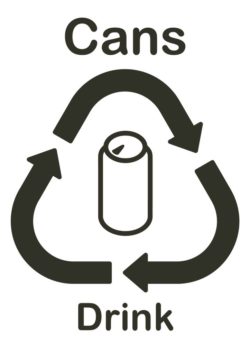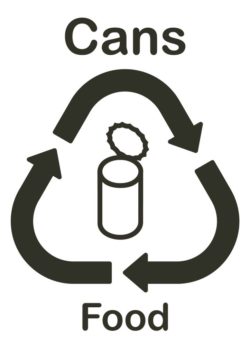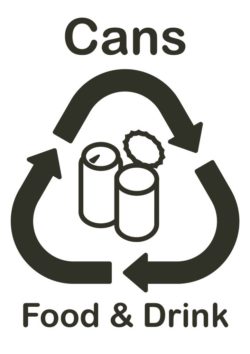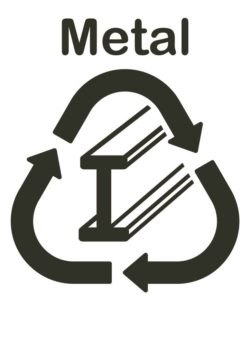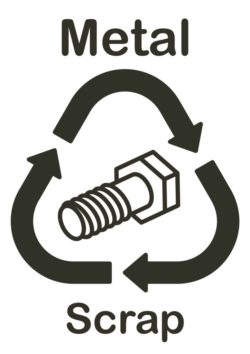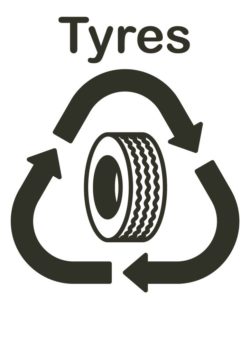 Organics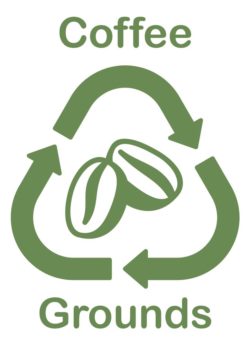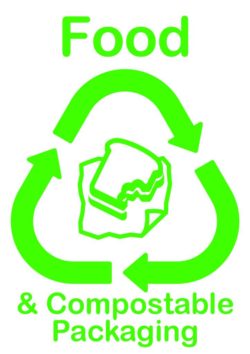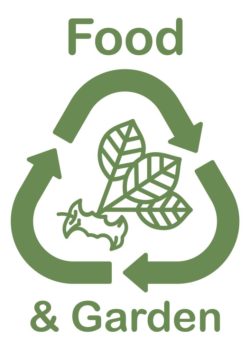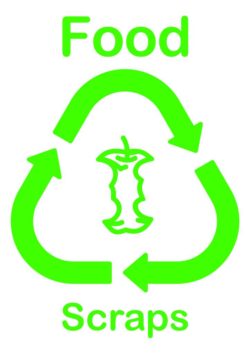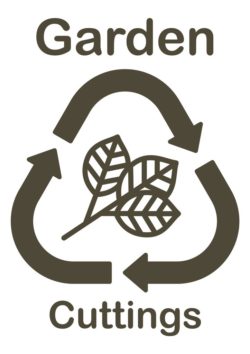 Paper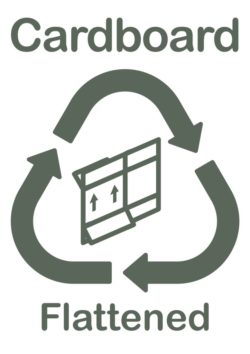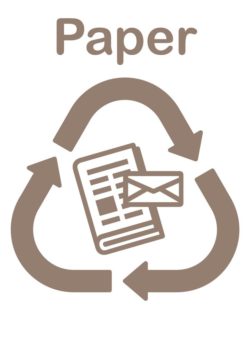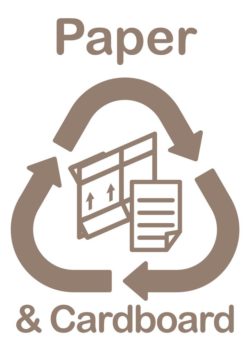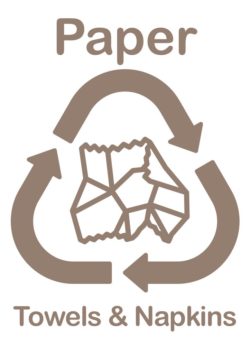 Plastic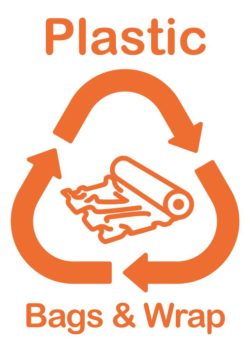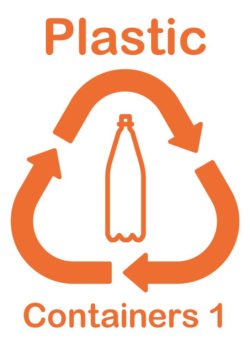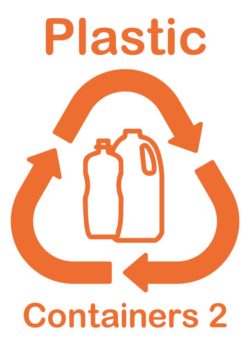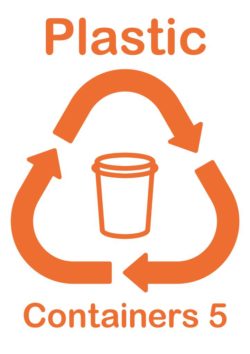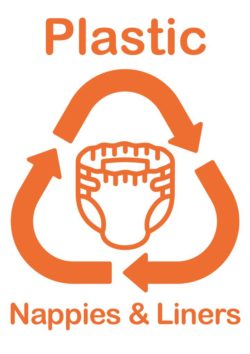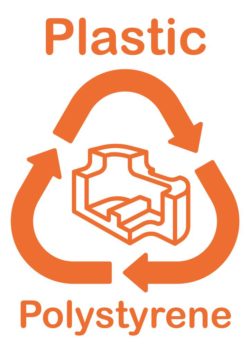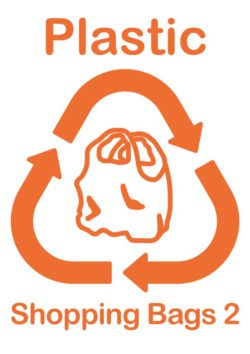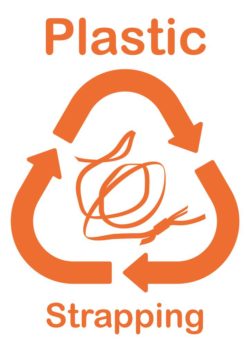 Recycling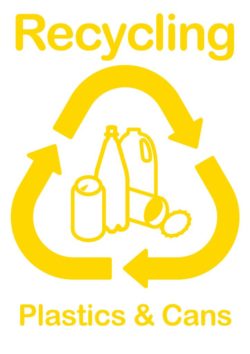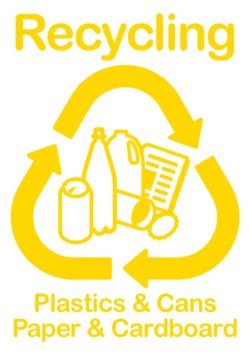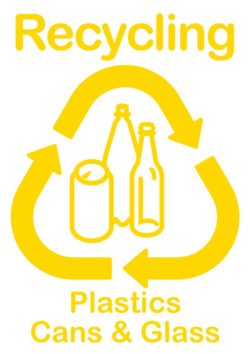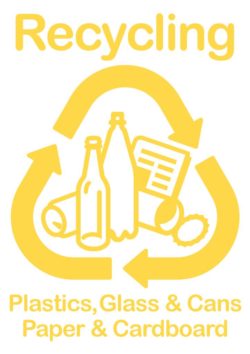 Reuse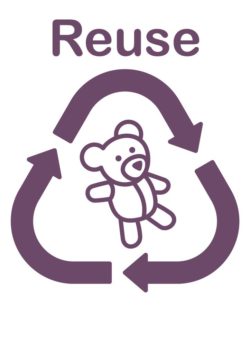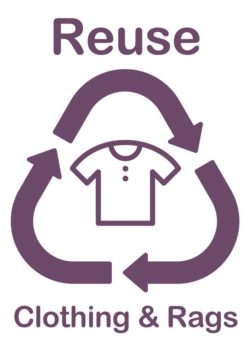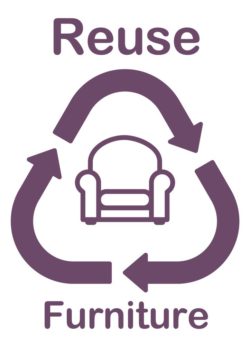 Rubbish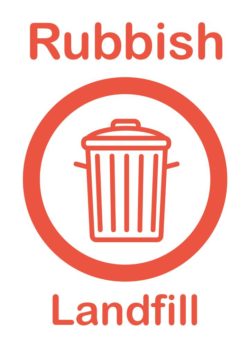 10:
Typical event waste streams & what to do with them