Splore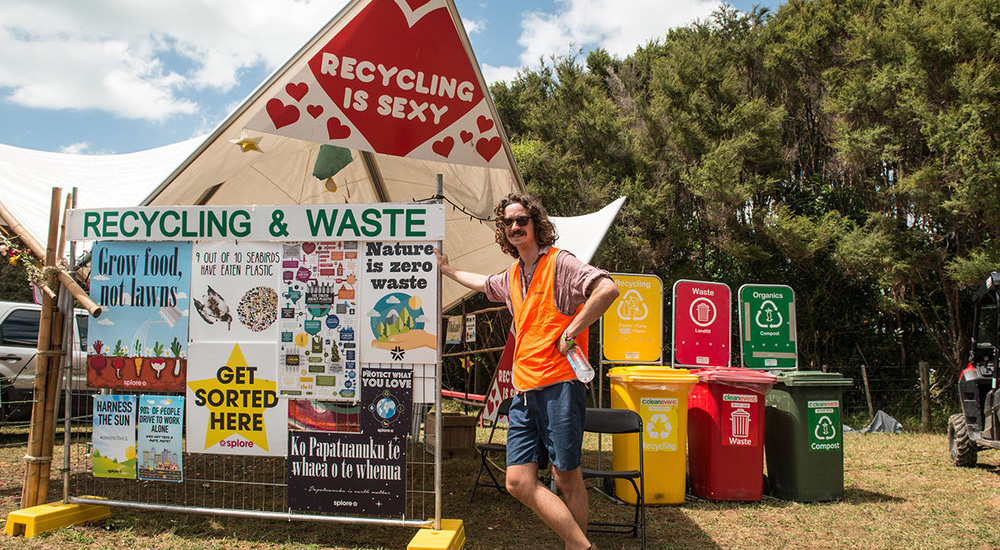 Event Type: Large outdoor ticketed event
Description: Splore is a three day camping festival focusing on live music, with food and drinks also available.
Size: 7,000 attendees in 2016
Location: Tapapakanga Park, Orere Point (South East Auckland)
Waste Separation: Recyclables, organics, rubbish
Performance: Achieved target of 85% diversion from landfill in 2016
1 Reduce incoming waste
Vendors were required to use compostable packaging only and a preferred supplier was organised with competitive pricing.
2 Choose the right bin
Having control over packaging used by vendors enabled us to accommodate large compostable waste streams.
3 Let people know
Social media is particularly important to the Splore community, and attendees are encouraged to think about what they are purchasing for the festival so as to reduce landfill waste prior to arrival. A large number of volunteers monitored bin stations constantly to ensure people put their waste in the right bins.
4 Capture feedback
In the first year of focusing on zero waste (2014), 73% was diverted from landfill. In 2016, this increased to 85%.
Splore 2016, 85% Zero Waste
The following are some things to think about:
Do you really need it?
Is it possible to substitute something that causes waste with something that doesn't?
For example:
Avoid giveaways and promotional material that will get discarded, such as thundersticks, balloons and glowsticks
Use ink stamps instead of paper wristbands
Consider issuing electronic tickets instead of paper ones
Avoid excess packaging and products sold in nonrecyclable packaging e.g. chip packets, candy bars, blister packs, chocolate
bars
Avoid disposable cups. Sell drinks in bottles or reusable cups
book loan gear
TIP – Stallholders
Your stallholders and vendors are vital to a successful Zero Waste Event. If they are on board, good results should follow.
The recommended approach is to;
Use vendors that are committed to being Zero Waste from the outset.
Establish your expectations with stallholders from the outset by asking them to agree to your Zero Waste plan.
Direct them to sort their back of house waste and use recyclable and compostable packaging.
Can it be reused, recycled or composted?
If not, consider an alternative that won't need to be landfilled. For example:
Use paper, reusable, or compostable bags instead of plastic bags
Replace disposable cutlery with reusable
Do not use polystyrene or plastic clamshells, plates, cups, and cutlery 1. Instead use compostable alternatives if you are collecting material for composting (see here).
Offer reusable cups with a deposit
Paper coffee cups are not recyclable as they are lined with plastic. Compostable cups (lined with plant-based plastic)
are an option, but ensure all these items are composted.
Use paper napkins in place of plastic containers to serve food items such as baking.
Use signs that can be stored and re-used for future events.
Take a look at this video from Splore 2019 for more tips:
Recent Zero Waste Events
Case Studies